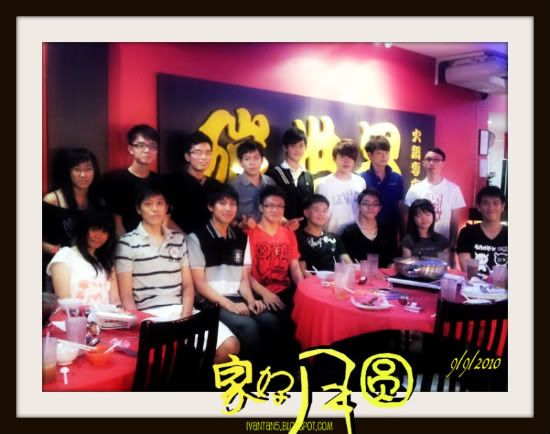 11 September 2010
The word

家好月圆

simply means a full moon symbolizing a harmonious family. The pronunciation in chinese is '
jia hao yue yuan
' or in cantonese '
ka hou yuet yuen
'. We have used this word to represent the friendship among us few years back.
Few days ago, on 9th Spemtember, we have a gathering at Goodtimes Restaurant opposite Tower Regency Hotel. As what my title said, it's kinda more like reunion. I'm happy and thrilled to see my friends again. Chuah came back from Malacca, Teik Sum came back from Penang and some of my friends from Kampar, Sunway.. MISS THEM DEARLY~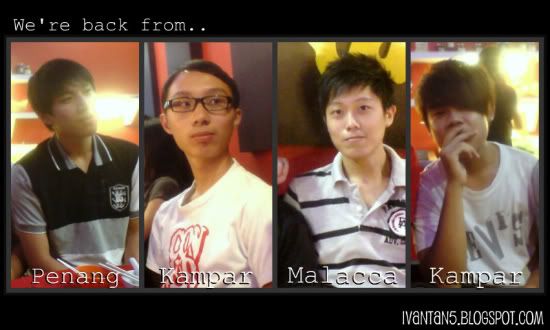 I was the 5th/6th person to arrive. When I arrived, I noticed a trend among us. Majority of us are wearing black, white or blank and white shirt. Chris was the only one wear RED. So we decided that those who are wearing shirts other than the colours mentioned above are required to pay~
(Wahh, Chris was so happy upon hearing that, hehe)
One by one arrived as time passes. Eon and Olivia, Haw Tung, Teik Sum, Esther...
When we thought the last to arrive were Chuah and Pui San, Vizent proved us wrong. He's the last one as usual, AS USUAL AHH!!!
There was a man, in his 60/70's, I've met him few times in different location before this. He will ask for donations of any amount and he will give 2 packets of tissue and play a song using his 'Erhu'. However, this time he was using his harmonica and played a song named 'Auld Lang Syne' in english or 'Friendnship Forever' in chinese. It perfectly suits the environment there.
The one that ate the most was Teik Sum! He said he miss the food in Ipoh, wow, so touching~
JoeJoe, Guo Sheng and Pig?