22 February 2010 -
Went to highway duty at Jelapang again. But fortunately, no accident occur unlike the last time I went. Those who went with me were Wai Hoong, Hong Wei and Cheong Wai Kit from JPP. Free KFC as usual~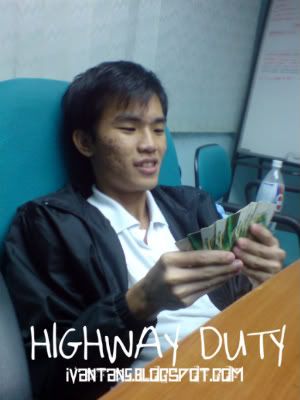 We played Chor Dai Di, Blackjack and some crazy card games introduced by the person in the photo below..
Then after playing for quite some time, we checked the ambulance for its first aid equipments.
Slept around 2am and woke up at 6.30am. Then we went to Foh San to eat dim sum with Joe Hang, Yee Lim and 2 of his friends (Nescafe and SiFuttLong). We ate around 130bucks but Nescafe treat us so YAY!



Related Link:
Highway Duty 2008