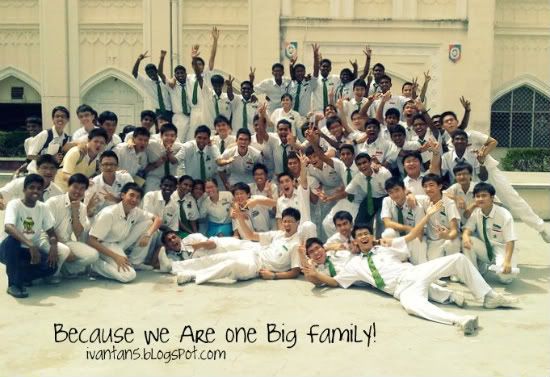 25 July 2010 -
What happened last Friday was totally unexpected. I will start off with Mr. Karu's AGM which began at 1.00pm on that day. The way he handle the AGM was unacceptable for all of us. There were no reports from the 6 Excos and the commission heads because the seniors are barred from entering the lecture theatre. So this is the first time in history only juniors are allowed to attend the AGM. The only agenda in the AGM was the statement of accounts from the treasurer which no one is there to care about what he is crapping and the election of the new commission heads.
Okay, I'm not gonna critize anyone anymore. So the list of the top 6 Excos are:
Head Prefect: Tan Tihn Chern
Lady Head Prefect: Yogamalar
Deputy Head Prefect: R.J. Kevin
Deputy Lady Head Prefect: Deborah Yaw
Honorary Secretary: Nicholas Chen
Honorary Treasurer: Mark Ooi
And the newly elected commission heads for guys are:
Discipline Commission (DISCO) - Foong Chee Hoe
Cleanliness and Security Commission (CS) - Teoh Ting Yuan
Home Affairs Commission (Homies) - Lee Kar Heng
Inter-Society Understanding Commission (ISUC) - Ivan Tan
Student Affair Commission (SAC) - Wong Joe Hang
I've forgotten the lady comm. heads. Sorry~
Frankly speaking, I felt that it's unfair to choose all the non ex-prefects as the commission heads because they have less experience than the ex-prefects. Majority of them are not satisfied with it and it's not even considered a handover. My comm. head is not there. No one is there to acknowledge them. I'm not happy. =(
However, what's done is done. I can't reverse what has happened. What I can comment is, in order to show others that I can manage the commission,
I WILL STRIVE FOR THE BEST AND WILL NOT GIVE UP,
I WILL BRING THE COMMISSION TO GREATER HEIGHTS,
I WILL GIVE MY FULLEST SUPPORT TO THE CURRENT BOARD,
I CAN DO BETTER THAN THE PREVIOUS COMM. HEAD!
The photos in this post is the real AGM conducted by Er Vin and a family of true prefects. Enjoy~